North Saskatchewan River (Edmonton) - Edmonton, Alberta, Canada
[
edit
]
---
Places & Things > Places > Canada > Edmonton, Alberta > North Saskatchewan River (Edmonton)
---
---
My short words
Just... Just the ice could talk about the beauty of nature.

I was looking at the spectacular winter river scene.

And the spring came here that the melting ice told. :)


---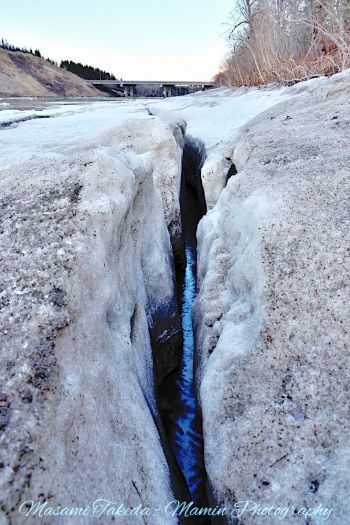 The North Saskatchewan River

The North Saskatchewan River is from Canadian Rockies to central Saskatchewan to connect to the Saskatchewan River.
Length 1,287 km (800 mi).
The river is providing the electricity (by the hydroelectric power plants) and the tap water to the residents.
The Saskatchewan River (Cree: kisiskāciwani-sīpiy, Plains Cree Syllabics: ᑭᓯᐢᑳᒋᐘᓂᓰᐱᐩ)

The Saskatchewan River is a major river in Canada.
The river name is from the Cree word "kisiskāciwani-sīpiy (ᑭᓯᐢᑳᒋᐘᓂᓰᐱᐩ)" that means "swift flowing river".
From the Rocky Mountains headwaters to Cedar Lake in central Manitoba.
Length 547 km (340 mi). It reaches 1,939 km (1,205 mi) if we think that it includes the Bow River.
(Reference: The Canadian Encyclopedia, wikipedia.org)
---
Data
Place name:
North Saskatchewan River (River Loop Trail)
Place:
North Saskatchewan River beside River Loop Trail, Edmonton, Alberta, Canada
Date taken:
Photo 1: April 18, 2021, 20:30
Photo 2: April 18, 2021, 20:13
Photo 3: April 18, 2021, 20:19
---
References
[
edit
]