Red spider lily and Lantana flowers
[
edit
]
(Red spider lily: Lycoris radiata, Lantana: Lantana camara)
---
Flower photos > Wildflowers > Autumn Flowering Plants > Lycoris radiata and Lantana camara (Red spider lily and Lantana) flowers
---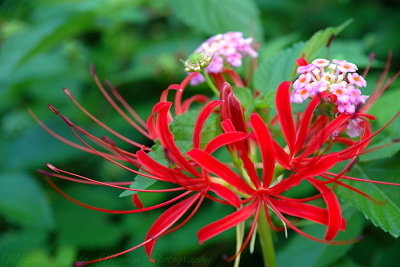 ---
My short words
The combination of the flowers (The Red spider lily flowers & The Lantana flowers).
They might be good friends together. :)
---
Data
Common name:
Red spider lily
Japanese name:
ヒガンバナ (Higanbana)
Scientific name:
Lycoris radiata
Family name:
Amaryllidaceae
Common name:
Lantana
Japanese name:
ランタナ (Rantana)
Scientific name:
Lantana camara
Family name:
Verbenaceae
Date taken:
September 11, 2014
Place:
A lake side park in Fukuoka city, Japan.
---
References
[
edit
]
(Red spider lily)
The Encyclopædia Britannica 15th edition - Lycoris radiata
2014 Encyclopedia Nipponica (Digital version), Shogakukan - Lycoris radiata Herb.
Wikipedia.org Lycoris radiata
(Lantana)
The Encyclopædia Britannica 15th edition - Lantana camara
2014 Encyclopedia Nipponica (Digital version), Shogakukan - Lantana camara L.
Wikipedia.org Lantana camara