Ptychostomum moss
[
edit
]
(Ptychostomum creberrimum syn. Bryum lisae var. cuspidatum)
---
Fern and moss photos > Moss > Ptychostomum creberrimum syn. Bryum lisae var. cuspidatum (Ptychostomum moss)
---
---
My short words
In the dark forest, the fresh sporophytes were shining by the sunlight.
It looked a tiny mossy forest in the forest ;)

I felt some kind of connections between the forest and the moss.

---
Memo
I found the moss in the forest in MacKinnon Ravine Park (Edmonton, AB, Canada).
Mosses are one group of bryophytes[1,3].
It had fresh sporophytes that can reproduce. [2,5,7].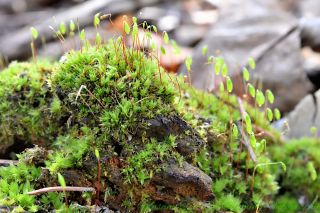 ---
Data
Common name:
Ptychostomum moss
Scientific name:
Ptychostomum creberrimum syn. Bryum lisae var. cuspidatum, Bryum creberrimum
Family name:
Bryaceae
Date taken:
April 25, 2019
Place:
MacKinnon Ravine Park in Edmonton, Alberta, Canada
---
References
[
edit
]
The Encyclopædia Britannica 15th edition - Bryophyta
The Encyclopædia Britannica 15th edition - Sporophyte
Wikipedia.org - Bryophyte
Wikipedia.org - Moss
Wikipedia.org - Sporophyte
Motana State Information Technology Services in the U.S. 'Montana Field Guide' - A Ptychostomum Moss - Ptychostomum creberrimum, Bryum lisae var. cuspidatum, Bryum creberrimum
Ohio Plants - bryophytes lifecycle; Bryum lisae var. cuspidatum